https://www.cnn.com/2018/03/24/europe/france-trebes-officer-dead/index.html
FRENCH OFFICER WHO SWAPPED PLACES WITH A HOSTAGE IN SUPPERMARKET ATTACK DIES – CNN
Interior Minister Gerard Collomb announced the officer's death Saturday, which raises the number of people killed to four.
"France will never forget his heroism, his bravery, his sacrifice," Collomb tweeted.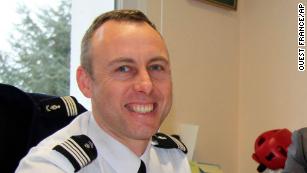 Beltrame offered to exchange himself for one of the female hostages held inside the Super U supermarket during the attack, and was shot while entering the supermarket.
When he went inside the supermarket, he left his phone on so police could hear his interactions with the gunman, Collomb said.
As soon as they heard gunfire, police went in and killed the gunman.
Woman detained
The gunman, Redouane Lakdim, 26, was known to authorities for minor crimes such as drug offenses, Collomb said.
Police detained a woman who was "very close" to Lakdim and "shared his life," prosecutor François Molins said.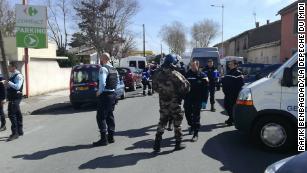 "Our country has suffered an Islamist terrorist attack," President Emmanuel Macron told reporters. "We've paid the price of the danger of the terrorist threat in blood for several years."
Macron hailed law enforcement's response, and singled out Beltrame for his bravery.
"He has saved lives, and done his role and his country proud," he said.
The ISIS-affiliated Amaq News Agency said that the gunman was a "soldier" of the militant group, but offered no evidence ISIS had any contact with the attacker.
"This attack has been claimed by ISIS, and it is currently being analyzed," Macron said.
France has faced a string of terrorist attacks in recent years, including the Paris attacks and other smaller-scale assaults. The country remained under a state of emergency for about two years after the Paris attacks. It was lifted late last year.
How the rampage unfolded
Before raiding the supermarket, the gunman stole a car, killing one person in the vehicle and wounding another, the interior minister said.
The gunman then shot at four National Police officers who were jogging in Carcassonne. The driver tried to run the officers down. One of them was wounded, but he is not in serious condition.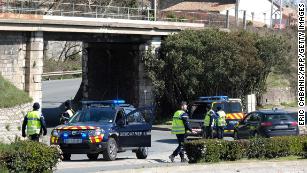 The gunman proceeded to the Super U market, where he shot two people dead and took several others hostage.
Police found the car, and SWAT teams surrounded the market.
Collomb said a National Police lieutenant colonel shot the gunman after offering himself for at least one of the hostages.
The order of the shots was unclear, Collomb said. Police raided the store after hearing gunshots.
"People were absolutely calm before and never thought that there could be an attack in a town like this," Collomb told reporters, adding that the risk of terrorism in France remained "very high."
Macron said the investigation will answer several questions — when and how the gunman was radicalized, and where he got a weapon.