https://www.cnn.com/2018/03/19/politics/robert-mueller-president-trump-russia-investigate-interview/index.html
MUELLER GIVES TRUMP LAWYER MORE DETAILS OF WHAT HE WANTS TO TALK TO PRESIDENT ABOUT –
As President Donald Trump's reaction to special counsel Robert Mueller grows more irate by the day, attorneys on both sides sat down last week in a rare face-to-face discussion about the topics investigators could inquire of the President. It was the first in-person meeting after several weeks of informal discussions between the two sides, according to two sources familiar with the talks.
Mueller's team added granularity to the topics it originally discussed with the defense team months ago, like the firing of FBI Director James Comey, according to one of the sources. This time around, for instance, the prosecutors said they would ask about Attorney General Jeff Sessions' involvement in the Comey dismissal and what Trump knew about national security adviser Michael Flynn's phone calls with then-Russian Ambassador Sergey Kislyak in late December 2016.
The meeting makes clear that Mueller's investigation into contact between Russians and the Trump campaign and other criminal matters isn't likely to end anytime soon and still may focus on Trump and what he knew. The meeting and its revelations also have unleashed a new level of Trump's public hostility toward Mueller, even while some of the President's advisers show a willingness to negotiate Trump's testimony.
The President's attorneys sent the special counsel a summary of evidence they had turned over to prosecutors already, a practice they've followed multiple times throughout the investigation. Mueller himself didn't attend the meeting. But prosecutors including former Watergate prosecutor James Quarles III gave Trump's lawyers enough detail that the President's team wrote a memo with possible questions they expect to be asked of him.
One source familiar with the matter said the President has vacillated on agreeing to an interview in recent months. Trump was interested in speaking with Mueller's team if the probe would end soon, as his lawyers had long promised, another source said. But once the President realized Mueller's work isn't nearing a conclusion, he's become more agitated and has lashed out on Twitter.
"They (the legal team) created the expectation that the probe was going to be done in December," and that expectation, plus the recent discussions and a subpoena of Trump Organization documents, set the President off.
Both sides could reach an agreement about the proposed sit-down interview — and whether they'll even allow it — in the coming weeks, according to a source familiar with the matter.
A spokesman for the special counsel's office declined to comment Monday night.
CNN reported in January that Mueller's team
had given the President's lawyers general topics for an interview, such as Trump's request that Comey drop the investigation into Flynn, his reaction to Comey's May 2017 testimony on Capitol Hill, and Trump's contact with intelligence officials about the Russia investigation.
A source familiar with the talks said more recent discussions about Trump's interview also touched on Sessions and Flynn. Sessions previously spoke to Mueller's team while investigators looked into possible obstruction of justice. And during the transition, Flynn had spoken to Kisklyak about sanctions and the United Nations, then lied to investigators about the calls before Trump fired him. Flynn pleaded guilty to lying to investigators and agreed to cooperate with Mueller in December.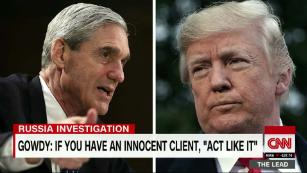 Republicans warn Trump not to fire Mueller 02:57
Republicans warn Trump not to fire Mueller 02:57
Trump repeatedly has
publicly offered to speak with Mueller under oath
and even said he looked forward to the opportunity. Yet behind the scenes, the President has wavered on his pledge as friends and advisers cautioned him of the risks of speaking to prosecutors who've already charged 19 individuals with criminal offenses, including lying. Until this point, Mueller's prosecutors have made it clear they wanted to speak with Trump but had no formal discussion with the President's lawyers about setting up the interview.
For months, Trump's defense lawyer inside the White House, Ty Cobb, has downplayed Mueller's need for the President's testimony and the depth of the investigation. Yet the meeting last week made it clear to Trump that Mueller won't wrap up soon.