No one knows who this unconscious Syrian toddler is
(CNN)Tucked under a gray blanket, his curly-haired head resting on a pillow, the boy could almost be sleeping peacefully at home.
But
traces of blood around a nostril and a dark, bruise-like shadow above one eye give a clue that something is wrong.
This unconscious toddler is one of the unheard victims of this week's
brutal bombardment by the
Syrian regime of the rebel-held enclave of Eastern Ghouta.
Doctors don't know his name, who his parents are or exactly what is wrong with him, Dr Hamza Hassan, an ear, nose and throat specialist working in Eastern Ghouta, told CNN on Friday.
The toddler was brought into a hospital where Hassan was working on Thursday after another hospital in which he was being treated, in the Eastern Ghouta town of Saqba, was hit in a strike, he said.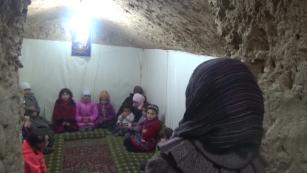 "He has no external injuries, we guess he has a nerve problem and internal injury," Hassan told CNN via WhatsApp voice message. Normal cell phone calls are not currently going through in the besieged Damascus suburb.
The toddler is thought to be between 1 and 1½ years of age, Hassan said.
"He's breathing but unconscious. We don't know where his parents are and this is part of the problems we are facing, and many other cases like this, where babies and toddlers are separated from their parents to get them to a safe location," he said.
The surgeon decided to share the boy's image with CNN to highlight the problem and in hope of finding his family. "The toddler is a survivor and he is safe and sound," said Hassan.
Moments later, his voice message is interrupted by the sound of a loud boom. The building on top of his location just got hit, Hassan explained.
Many in Eastern Ghouta, where close to 400,000 people are living under siege, have taken refuge in makeshift underground shelters. The region has been subjected to a fierce bombardment since Sunday night, with
more than 400 people reported dead
and many more injured.
Doctors and activists on the ground say medical facilities — and even ambulances — are being deliberately hit. According to the Union of Medical Care and Relief Organizations, 26 medical facilities were targeted between Monday and Thursday.
It lists Saqba Hospital as having been hit on Monday and on Wednesday, when Al-Yaman Hospital in Saqba was also struck. More than 10 ambulances were also hit over the four days, it said.
"The situation is very difficult and unbearable," said Hassan. "On Thursday alone, 91 people were killed and more than 350 injured (across Eastern Ghouta) — and some of those injured died because of the inability of ambulances to move around."
The hospital at which Hassan normally works, in the Eastern Ghouta town of Erbin, was put out of action by a strike on Tuesday, he said.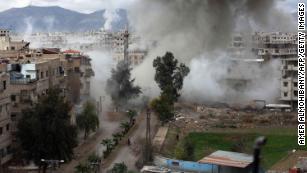 In a statement Thursday, rights group Human Rights Watch accused Syrian forces of using barrel bombs and other weapons to carry out indiscriminate attacks in populated areas in defiance of the rules of war and a UN Security Council resolution.
It said first responders had recounted Wednesday how a bomb directly hit an ambulance arriving at the scene of a strike.
On Tuesday, the UN children's agency UNICEF
issued a blank statement
condemning what it described as the "war on children in Syria."
"UNICEF is issuing this blank statement. We no longer have the words to describe children's suffering and our outrage," the agency said in a footnote. "Do those inflicting the suffering still have words to justify their barbaric acts?"